Maintaining a clean and hygienic workplace is essential for any business, but it can be a time-consuming and challenging task. That's where professional janitorial services come in. Hiring a professional janitorial service for your business can provide numerous benefits, including a cleaner and more hygienic workplace, improved employee productivity, consistent and reliable cleaning, and peace of mind. In this article, we'll explore these benefits in more detail and help you understand why hiring a professional janitorial service is a smart investment for your business.
A Cleaner and More Hygienic Workplace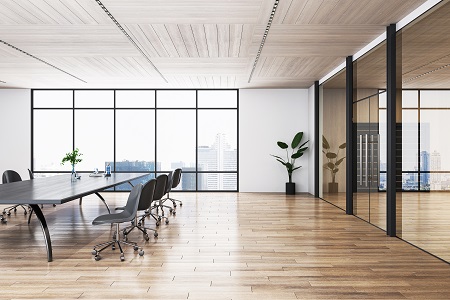 You can trust a professional janitorial service to maintain a clean and welcoming atmosphere for your business, leaving you to focus on what you do best. Trained and equipped with the latest cleaning technology, janitors effectively sanitize all workplace areas, including high-touch surfaces prone to germ buildup. Regular cleaning significantly reduces the risk of illness and infection among your employees and visitors.
Improved Employee Productivity
A tidy workspace's benefits extend beyond just aesthetics, as studies have shown that a clutter-free environment can lead to reduced stress levels and improved focus. By investing in professional janitorial services, you can rest assured that your workplace will always be clean and organized, providing a more positive and productive work environment for your team. Let our experts handle the cleaning, so you can focus on growing your business.
Reduced Spread of Disease
Ensuring overall wellness in the workplace is key to reducing absenteeism due to health problems among employees. Germs and illnesses are easily spread in environments where high-touch surfaces like doorknobs, desks, and keyboards are not properly cleaned and disinfected. Encouraging healthy habits like washing hands regularly, covering noses and mouths when coughing or sneezing, and staying home when sick can also prevent the spread of illness. It's important for companies to invest in creating a clean and safe workspace that prioritizes the well-being of its employees. By doing so, they protect their staff's health and reduce the number of sick days taken, ultimately benefiting the bottom line.
Consistent and Reliable Cleaning
Maintaining a clean workplace is essential in ensuring a comfortable and healthier environment for your employees and customers. This is why it's important to consider hiring a professional cleaning service to take care of the cleanliness of your business on a consistent and reliable schedule. By doing so, you can expect a higher quality of cleaning and a cleaner facility overall. This will help eliminate unpleasant odors and bacteria and protect your furniture, flooring, and fixtures from looking worn out or your hard-to-reach places looking overly dusty.
Access to Specialized Cleaning Equipment and Techniques
Professional cleaning companies have access to advanced cleaning technologies and equipment that are not readily available to most businesses. This equipment and expertise allow cleaning professionals to tackle various cleaning challenges that may be difficult for businesses to handle on their own. For example, pressure washing and steam cleaning technology are a few of the pieces of equipment a cleaning company may use. They may also use floor buffers or special floor scrubbers.
Professional Looking Space
Walking into a business that has dirty floors, dusty desks, and overflowing trash cans can give a poor first impression to customers. It sends a message that the business does not value cleanliness or attention to detail. On the other hand, walking into a business that exudes cleanliness, uses fresh scents, and looks pristine can leave a much better impression. This attention to detail and cleanliness could translate into higher confidence in the goods or services the business provides. A clean and orderly workspace shows that the business takes pride in its appearance and service, making customers feel more comfortable doing business with them. It's important to remember that the image you project to customers can have a significant impact on the success of your operation.
Save Time and Money in the Long Run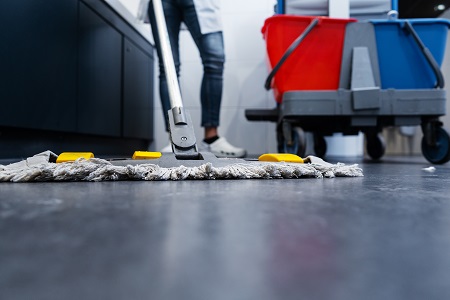 As a business owner or manager, you understand the importance of time management. However, it can be challenging to juggle all your responsibilities, including making sure your office space is clean and tidy. Delegating cleaning duties to your staff may seem like a practical solution, but it can also lead to decreased morale and lost productivity. The good news is that you don't have to sacrifice your time or your staff's happiness to maintain a clean workspace. By hiring professional cleaners, you can ensure that your office is always spotless and your employees can focus on their work without worrying about cleaning duties. Plus, outsourcing this task can save you money in the long run by reducing the need for expensive cleaning equipment and supplies. Invest in a professional cleaning service today and watch your business flourish.
Contact PDX Cleaning for Janitorial Services Today
As a professional janitorial service provider, PDX Cleaning is dedicated to ensuring that every detail is taken care of when it comes to keeping your business clean. We take pride in providing the most reliable and attentive janitorial services in Vancouver, OR. One of the ways we do this is by using only safe and eco-friendly products that not only keep your workspace free from harmful chemicals but also minimize their effects on the environment. With our services, you can rest assured that your employees' and customers' health and safety are paramount to us.
Make a choice to partner with PDX Cleaning for all your janitorial needs, and contact us today.
Cleaning services we provide:
Quality Commercial Cleaning Services

Deep House Cleaning Services

Dependable Office Cleaning Services
Why choose PDX Cleaning:
High quality cleaning services

Excellent customer service

Flexible cleaning schedule for those with busy lives

We use only safe green cleaning products
Visit our About Us page for more information about our cleaning company, or see our Cleaning FAQs if you have any questions.