Housekeeping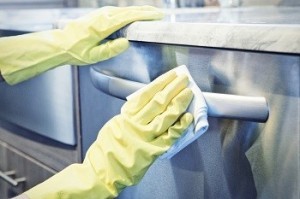 Keeping a tidy house is important, but it isn't always possible. There's a limited amount of time in the day, and you may not always be able to combat germs, dust, and bacteria as fast as it builds up. Add in work, family, and the struggle to find time for yourself, and housekeeping can seem impossible. That's why so many residents choose to get the housekeeping their Vancouver, WA homes need from PDX Cleaning.
Is your house making you sick?
There are two major causes of illness that stem from an unclean home.
Germs – Studies indicate that 32 percent of countertops contain Coliform bacteria and mold can be found on 18 percent. That's just your counter top. Other places in your home contain staph bacteria and yeast. These can cause severe problems and negatively affect your health.
Allergens – Dust mites are a primary cause of allergies. This makes your bedroom a primary source of mite activity. They can cause asthma in young children, and they may inhabit an area even if visible dirt is not present. Pet dander also causes allergies indoors, and can quickly build up without regular house cleaning.
Get the house cleaning you need!
There are some serious benefits to letting our professional maids clean your house. Our services turn Vancouver, WA houses into homes, giving you peace of mind that comes from knowing you're safer from dangerous germs and allergens. We provide mopping, dishwashing, and sanitation services, professional carpet cleaning, laundry services, and so much more.
Our housekeepers have the credentials you're looking for.

Complete background checks and professional references must be passed before hiring.
We only use tough and safe green products to protect your home and family.
Our housekeepers guarantee their cleaning. We'll fix problems reported within 24 hours for free.
Cleaners are area locals and know how to adapt cleaning for the weather.
We are bonded, licensed, and have been delivering the best housekeeping in Vancouver, WA for over 15 years.
Customized housekeeping services for a stress-free life.
Our housekeeping is customized for your needs. We can provide general cleaning or focus on specific areas and needs. Our scheduling options make finding the right cleaning services simple, and we offer daily, bi-weekly, weekly, bi-monthly, and monthly cleaning. Providing our clients with a clean home is our number one priority. Isn't it time to experience a healthy home, and get your free time back?
Contact us to schedule your first Vancouver, WA housekeeping appointment!
With competitive and affordable rates, a professional staff that cares, and exceptional service, call (360) 931-0939 or contact us today for your free in-home estimate. Based on your property and needs, we'll create an ideal schedule for maintaining your health, and your home.